« Back to Articles
PETROL AND SUPERNOVA FORM A STRATEGIC PARTNERSHIP TO ACCOMMODATE THE NEEDS OF EV USERS: THE FIRST MULTI-STANDARD EV CHARGING INFRASTRUCTURE IN DOLENJSKA CO-FUNDED BY THE EUROPEAN UNION
Novo mesto, Friday, 3 December 2021 - Petrol and Supernova today opened an ultra-modern EV charging hub with a maximum power output of 350 kW per charger at the Supernova Qlandia shopping centre in Novo mesto. This is the first multi-standard EV charging infrastructure hub in Dolenjska.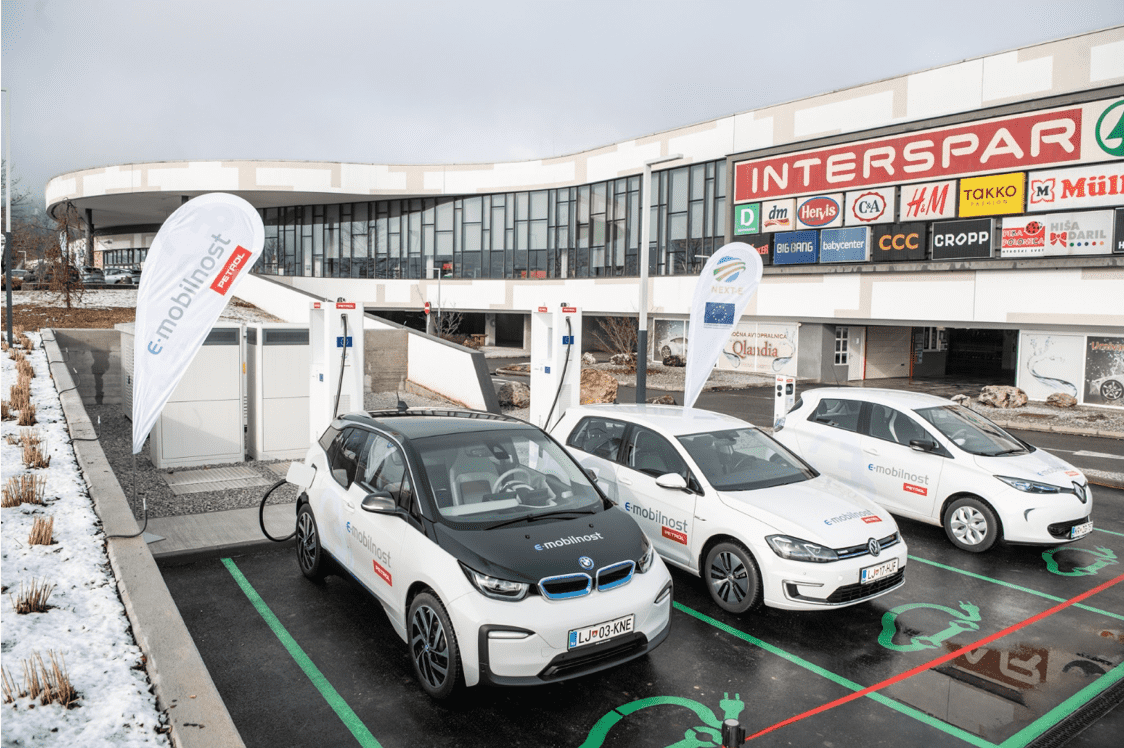 By opening the ultra-fast charging station at the Supernova Qlandia shopping centre in Novo mesto, Petrol, in cooperation with Supernova, is successfully closing the NEXT-E project, the aim of which is to accelerate the deployment of the multi-standard charging infrastructure for electric vehicles (in line with national implementation frameworks and the EU Alternative Fuels Infrastructure Directive) with a view to achieving the ambitious decarbonization target in transport and the economy. The project, which started in 2017 and is about to end this year, is co-financed by the European Climate, Infrastructure and Environment Executive Agency (CINEA) under the Connecting Europe Facility.
Petrol's extensive international EV charging infrastructure network is expanding intensively. In addition to its current 260 charging stations in Slovenia, Croatia, Serbia, and Montenegro, Petrol's goal is to add 1,300 EV charging stations to its portfolio by 2025.
"By expanding the network of charging stations in Petrol, we are pursuing our vision to become an integrated partner in the energy transition, offering an excellent user experience. By deploying ultra-fast charging stations, we enable our users to charge their electric cars in the shortest possible time, thereby significantly enhancing the user experience and further positioning Petrol as the most comprehensive provider of sustainable mobility solutions in the region,"
said Mr Jože Bajuk, Petrol's Management Board Member.

Mr Jože Bajuk, Petrol's Management Board Member
In addition to two ultra-fast 350 kW charging stations, the hub includes three slow-charging stations with a capacity of 22 kW, meaning there are a total of eight charging points available to users 24/7. The hub is located on a strategically important location of the Mediterranean corridor connecting Slovenia and Croatia, that is, by the Ljubljana–Zagreb route, and at the same time it represents a great contribution to Dolenjska. According to the Mayor of Novo mesto,
Gregor Macedoni
,
"e-mobility is one of the key priorities in the field of sustainable mobility in the Municipality of Novo mesto. We have already partnered with Petrol on several projects in the field of sustainable development. Integrated and sustainable planning has become one of the central pillars of our efforts, also related to environmental protection. This is where want to be a role model, as most of our transportation needs are driven by electricity if we use our own or share electric vehicles. The awareness about the importance of e-mobility has been growing among our citizens, and the actual use has been increasing, which is why we want to provide electric car users with the most accessible infrastructure possible. The municipality itself or together with its partners has already installed 15 electric charging stations and I am pleased with the cooperation of the economy and companies that are setting up their public charging stations, as this ensures us to be one step closer to the goal of reducing emissions. Fast charging stations, such as the new one here in Mačkovec, are of particular importance as they are urgently needed to provide adequate support for long-distance e-mobility."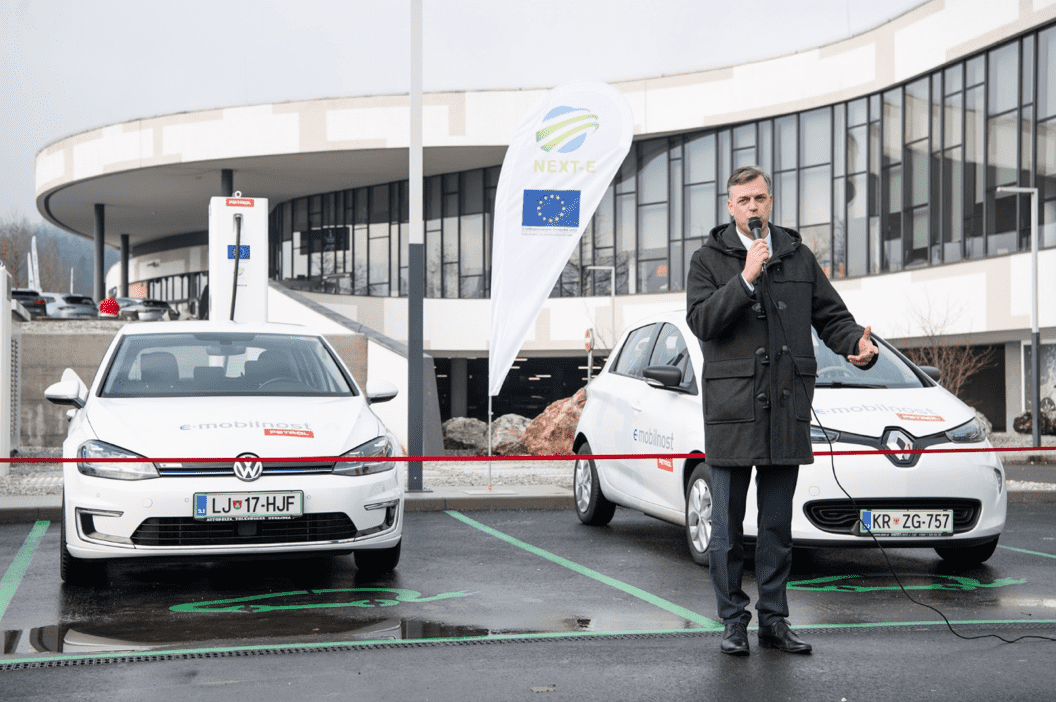 Mr Gregor Macedoni, Mayor of Novo mesto

This is Petrol and Supernova's first location in Slovenia with an infrastructure that provides EV users with different charging options, depending on charging method and price. While their electric cars are charging, they can do their shopping, have lunch or enjoy in other entertainment options in the shopping centre. "The Supernova Group manages 25 shopping centres and shopping parks in Slovenia. As the leading Slovenian investor in shopping centres, we believe that we must take care of environmental awareness and conservation of resources, both in construction and asset management. Our goal is to become a carbon neutral company and a leader in energy efficiency. By implementing this programme, we will help reduce environmental pollution and improve the quality of life. Participation in future-oriented projects is very important to us and we are proud that in addition to installing a two-megawatt solar power plant on the roof of the centre and replacing lighting with LED technology, we are opening an electric vehicle charging station in cooperation with Petrol which will offer visitors the opportunity to enjoy in carefree shopping in the Supernova Qlandia Novo mesto shopping centre while charging their vehicles," said Natalija Glogovšek, Centre Manager at Supernova Qlandia Novo mesto, at the opening.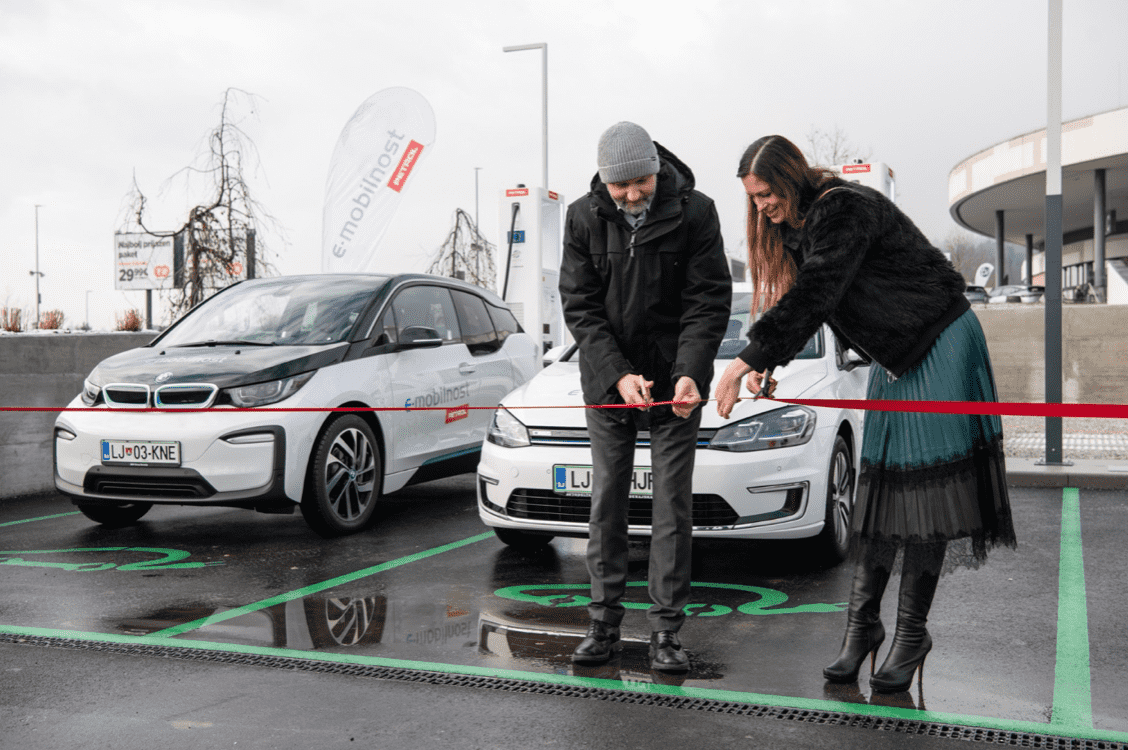 Mr Jože Bajuk, Petrol's Management Board Member and Ms Natalija Glogovšek, Centre Manager at Supernova Qlandia Novo mesto, at the opening

Electric vehicles can be charged at Petrol's e-charging stations by using the OneCharge app (log in to the website www.onecharge.eu) or Petrol's e-mobility card. Information about all Petrol charging stations (connection type, charging capacity, occupancy, price list) is available to users in the OneCharge app and on the website.
Petrol's priority task is to accommodate the needs of its users. To this end it uses its partnership network and provides the roaming service, thereby enabling carefree long-distance cross-border driving and EV charging also abroad. Users of the OneCharge app and the online version of OneCharge.eu can find charging stations based on their whereabouts abroad. Our partnership network is being gradually expanded with the goal to provide the charging service in all EU countries.
For more information on comprehensive mobility solutions for individuals and companies visit Petrol's website:
www.petrol.si/poslovne-resitve/mobilnost
About the NEXT-E project
NEXT-E action is part of a Global Project, which aims to accelerate the deployment of multi-standard EV charging infrastructure in accordance with national implementation frameworks and the Alternative Fuels Infrastructure Directive and as such it is crucial in terms of achieving Europe's ambitious carbon-free transport goal. It is co-financed under the Connecting Europe Facility by the European Climate, Infrastructure and Environment Executive Agency (CINEA), which manages European Commission's decarbonisation and sustainable growth programmes.
"The Next-e project is emblematic of what is a European project to decarbonise transport. Deployed over six EU Member States and covering four multimodal Corridors, it has been instrumental in boosting the electric vehicle recharging network in Europe. Heading towards nearly zero-emission transport system in Europe, is a compelling need that needs to be addressed right now. With the new Alternative Fuels Infrastructure Facility (AFIF), the European Commission and CINEA, the European Climate, Infrastructure and Environment Executive Agency, will keep on supporting such projects that are contributing significantly to the achievement of Green Deal objectives for the benefit of European citizens and economic operators" declared Richard Ferrer, Head of Innovation and Alternative Fuels at CINEA.
The project was launched in 2017 and is to end in December 2021. In the context of the project, Petrol has joined forces with leading companies in the fields of energy, oil and gas, and vehicle manufacturers. In addition to Petrol (Slovenia and Croatia), the consortium includes companies from the E.ON Group (Západoslovenská energetika in Slovakia, E.ON Czech Republic, E.ON Hungary, E.ON Romania), the MOL Group (represented through branches in all six participating countries, namely MOL Czech Republic, Slovnaft Slovakia, MOL Hungary, MOL Romania, MOL Slovenia, Tifon Croatia), Hrvatska elektroprivreda from Croatia, BMW, and NISSAN.
The aim of the project is to establish a charging infrastructure of 222 fast charging stations (50 kW) and 30 ultra-fast charging stations (150–350 kW) in six countries of Central and Eastern Europe, mainly on the corridors of the TEN-T core network: Orient/East-Med, Baltic-Adriatic, the Mediterranean and the Rhine-Danube and the core network in the Czech Republic, Slovakia, Hungary, Slovenia, Croatia and Romania according to the infographic below. It will be connected and interoperable with existing trans-European infrastructure and urban hubs.
As part of the project, Petrol has deployed 16 fast and 4 ultra-fast charging stations along the TENT-T corridor in Slovenia from Maribor to Koper and from Ljubljana to Zagreb and 1 battery storage in connection with the charging infrastructure.
Infographics on EV charging infrastructure within the NEXT-E project
More information on the NEXT-E project is available at
www.next-e.eu
Disclaimer:
The contents of this announcement are the sole responsibility of Petrol d.o.o. and do not necessarily reflect the opinion of the European Union.
MEDIA CONTACT:
Polona Žučko
Corporate Communications, Petrol d.d., Ljubljana
E-mail:
petrol.pr@petrol.si